The Faculty of Law
The Department of Criminal Process and Criminology
The Department was founded in April 2005. The Head of the Department is the Associate professor M.A. Mikhailov.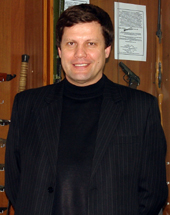 Teaching staff:
Associate professor: M.A. Mikhailov, L.V. Yurchenko; Senior lecturer: V.S. Borodin, D.V. Veligodsky, E.V. Gubanova, T.V. Yelkina, P.A. Makarov, I.F. Patrash.
Areas of research:
Studying of problems of rights and legal personality interests protection in Criminal legal proceedings in conditions of its reforming.
Academic and educational relations:
the Institute of State and Law named after V.M. Koretzky NAS of Ukraine, Kharkov National University of internal affairs, Lvov National I. Franko University, Odessa National Law Academy, Kherson state university.
The Department concluded treaties on mutual cooperation with the Department of legal disciplines of Tula state pedagogical L.N. Tolstoy university, Sevastopol regional department of Ukrainian Academy of judges and other higher educational establishments of Ukraine and Russia.