The Faculty of Geography
The Department of General Earth Science and Geomorphology
The Head of the Department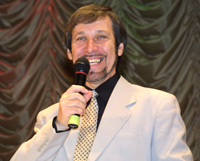 Boris Aleksandrovich VAKHRUSHEV, Professor, Doctor of Science (Geography), Candidate of Science (Geology and Mineralogy), Honoured Worker of Education of Crimean Autonomous Republic, Winner of the V.I. Vernadsky Prize, President of Small Academy of Science of Schoolchildren of Crimea.
Phone: +38(0652) 60-85-55
E-mail: vakh@inbox.ru
General Information
The Department of General Earth Science and Geomorphology is the assignee of the Department of Geology of Taurida University which was formed in 1918. The first director of the Department was Academician N.I. Andrusov.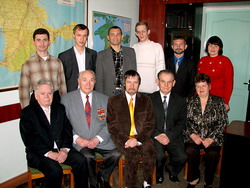 In 1919-1921 Academicians V.I. Vernadsky and V.A. Obruchev worked at the Department. From 1972 the Department specialize their students on Geomorphology and Paleogeography. There are 6 basic courses and 20 special courses of geologic and geomorphologic cycle. Educational field and industrial practices are conducted in mountains of Crimea, Caucasus, Carpathians. At the Department the educational geologic-mineralogical museum is opened, the class of geomorphology, laboratory of karst and speleology work. Last 20 years students participate in the Department Crimean scientific expedition and the Crimean-Caucasian karstic expedition. Great amount of fundamental scientific researches is conducted, more than 1200 scientific works, more than 40 monographies are published at the Department. Scientists of the Department are authors of articles in the Geographical Encyclopedia of Ukraine, Encyclopedic Dictionary of Crimea, co-authors of the International Encyclopedia of Karsts (New York, 2005) and English-Greek-Russian Dictionary of Geological Terms (Athenes, 2006). At the Department the School on complex studying of karstic processes is created.
Scientific Work
The basic directions of work:
Geomorphology and Geoecology of Crimea and neighbouring territories;
Rational wildlife management and wildlife management of Crimea;
Geology and hydrogeology karstic territories;
Geomorphology of karsts;
Researches of underground landscapes;
Morphogenesis in volcanic areas;
Problems of reserves and creations of natural national parks;
Modern geomorphological processes;
Paleontologic and paleographic researches of Crimea;
Paleontology;
Geomorphology of archeologic objects;
Thermobarogeochemical conditions of minerals formation;
Hydrogeology of Crimea;
Regional and general karstology;
Speleology.
The Department annually carries out researches with participation of students in various areas of Crimea, Caucasus, Turkey, etc.
Disciplines:
Geomorphology and Paleogeography. Regional Karstology. Geomorphology of Sea Coasts. (B.A. Vakhrushev, Professor)
Theory and Methodology of Geographical Science. Ecological-Geographical Problems of Crimea. Methodology of Scientific-Research Activity. (V.G. Yena, Professor)
General and Historical Geology. Modern Problems of Geography. Mineralogy and Petrography. Exploration Geomorphology and Mineral Deposits. Fundamentals of Tectonics. (A.G. Kuznetsov, Associate Professor)
General Hydrology. Regional Physical Geography. (G.N. Amelichev, Associate Professor)
Recreational Geomorphology. Paleogeography of Anthropogenesis. (N.N. Blaga, Associate Professor)
General Geomorphology. Fundamentals of Speleology. Technique of Geomorphological Researches and Engineering Geologic Mapping. (G.V. Samokhin, Assistant)
Fundamentals of Rational Nature Management and Wildlife Preservation. Branch Engineering Geomorphology. Technique of Engineering Geologic Prospecting. (A. A. Saiganov, Assistant)
Engineering Geology with bases of Hydrogeology. GIS in Geomorphology and Engineering Geology. (D. V. Krulikovsky, Assistant).
Specialization
The  Department specializes in Geomorphology and Engineering and Geodynamics.